Water Heating For Your solar PV System
The immerSUN measures and records energy applied to the immersion heater. As only the renewable energy is counted this is effectively saved energy.
You can view savings made for today, the week, the month, the year or total savings.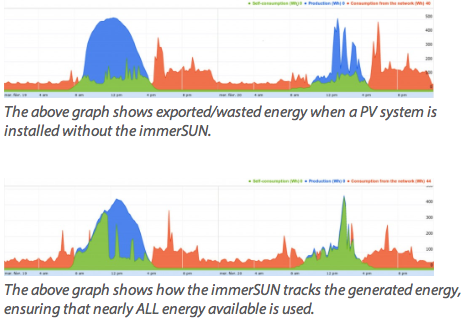 immerSUN's Key Benefits:
Heats water from your PV system or Wind Turbine
Effectively adjusts power levels to the immersion heater, keeping the exported power at virtually zero
The consumer no longer needs to be at home to use the free electricity, whatever the weather
No need to change the immersion heater
Suitable for all electrical microgeneration systems
Built-in hot water boost timer
Manual hot water boost function
LCD display shows energy saved, output power and operating mode
Dual immersion heater control option
Internal multi-function relay in-addition to the modulated power output
Up to 4 devices can be daisy-chained for master / slave operation
MODBUS RS485 interface for system expansion and external data logging

Internal thermal protection
3 year product warranty
Trustine Power Technology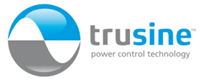 trusine™ is the power control technology implemented in the immerSUN®. It is basically 4eco's propriety control method. As the name suggests, the power being delivered to the load is kept as a true sine wave; only the voltage is varied.


This control method cannot be achieved using TRIACs and so is much more difficult to design, requiring many more components which increases cost. However, the benefits far outweigh the initial cost.
Compliant with EN 61000-3-3 (voltage fluctuation and flicker): Will never cause lights to flicker
Compliant with EN 61000-3-2 (harmonic current emissions): Will never cause problems with inverters
Fully short circuit protected in case of load fault
Over-load protection
Power factor correction
Soft starting to avoid power surges
Smart meter compatible
Compatible with third-party energy monitors

Careful consideration needs to be given as to which controller is used. Choosing to save money on the initial cost of the unit may be false economy as problems could arise after installation. By choosing immerSUN with it's trusine™ power control technology, you can be assured of reliable, trouble free operation for many years.