News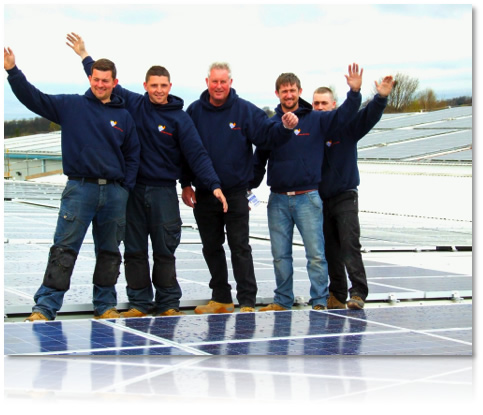 A Staffordshire company is celebrating after one of the largest factory roof Solar PV Electricity projects in the UK was switched on 2 weeks ahead of schedule allowing thousands of pounds worth of extra savings on power.
The Rugeley/Great Barr based A1 Solar UK Limited installed 2120 solar panels in just 7 weeks producing the equivalent power needed for 60 homes. During the project on a warehouse roof in Great Barr seven A1 Solar UK Limited team used 10,000 meters of cable and 60,000 bolts to fix the roof mountings. They also installed several huge Fronius inverters and various Power-One from PVI-3.6–Trio-27.6-TL to convert the DC power into AC along with associated control equipment.
The system is now generating 400kWp instantly in optimum conditions saving the client Selecta Systems an estimated £16,500 per month over a third of their current electricity bill. The system generates 289,332 kWh per year and 6.85MW of electricity over 20 years.
An average home uses 4,800 kWh per year which means Selecta Systems equals the annual requirement of 60 homes.
Working to a strict schedule, A1 Solar UK Limited beat the deadline for the Governments Feed-in-tariff scheme and our client Selecta Systems a profile extrusion company is now enjoying huge savings on their electricity bill whilst earning additional money from the National Grid. Managing Director Mr Paul Grinsell said 'detailed planning was the key to the smooth running of this project, it was a huge project but we a have highly experienced, qualified and confident team'.
This is one of the largest roof installations undertaken and is the forerunner of many companies to realise just how much money that can be saved. When you can save some £16,500.00 on a monthly bill, it can make a huge difference to a companies profitability and efficiency
A1 Solar UK Limited are:-
MCS Certified Solar PV fitters
We provide FREE Planning & Design, fitting and Commissioning.
G83 (4kW) and G59 (5MW) Installation Specialists
We also have an in house roofing company www.a1roofspec.co.uk
to look after any of your roofing needs